Published on Gilroy Life's website September 4, 2017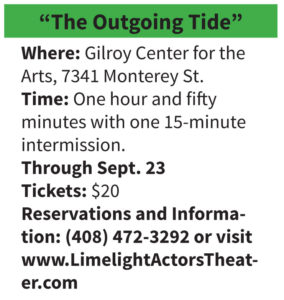 Limelight Actors Theater has always entertained and brought a eminence to their productions that surprised with the quality of their shows for a local company. They have really reached and touched high with their latest production ."The Outgoing Tide" by Bruce  Graham.  Smoothly  directed by Kevin Heath who deftly also plays a central role of the grown son Jack with problems of his own while being set in the middle of  his parents  decisions,  Bill Tindall as the cantankerous Gunner and Rosalind Farotte as his loving indecisive wife Peg –  all are  solid in their delivery.
The story about the subject will hit home with many.  Tough and always in charge Gunner is slowly slipping in and out of dementia  going deeper as the time passes. He has many lucid moments and knows what is his future holds, he makes plans to  make sure his family is taken care of. Full of  heartache and humor the story takes us into areas some know too well.
Skillfully written, the play by playwright Graham brings the audience into intimate moments that touches the emotional tender parts of the soul. The simple seaside set by Heath and Glynis Crabb with light and sound by Matthew Hendrickson bring in a complete performance.
"The Outgoing Tide" is extremely well done and will make you laugh and cry and remember the life that encompasses us is really, always in control. For a relaxing laid back evening of fun that is a distinctive experience – call in your reservations early to be sure space is available. You can't go wrong here. Great entertainment, close to home, lots of laughs, with an extra friendly atmosphere
Reservations are a must. Bring your own dinner and wine. Or dinner can also be ordered from the Milias Restaurant from their "Limelight Theater To Go Menu". Order by noon the day of the show and dinner will be delivered to the theater at 7pm. To order call (408) 337-5100.Doors open at 6:30 pm with an 8 pm curtain. Check for matinees – doors open at 1 pm with a 2pm curtain. Lots of easy parking is available.
Camille Bounds is the theater columnist for the Morgan Hill Life and Gilroy Life. She has performed on Broadway and traveled around the world.
Latest posts by Camille Bounds (see all)