Eighteen actors play 50 roles on custom build two-story revolving stage
Published online November 23, 2017 on Gilroy Life's website
In "Act One," South Valley Civic Theatre performers tell the story of how a Bronx boy named Moss Hart's deep desire to be a successful playwright led him to fame and fortune on Broadway.
The play is based on Hart's 1959 best-selling memoir, now a canon of theater literature. Written by James Lapine, "Act One" opened on Broadway in April 2014 and came to the Morgan Hill Community Playhouse Nov. 17 with a stellar cast of 18 actors who come to life in at least 50 roles.
Hart's talent at crafting comedy plays helps him get out of the poor tenement where he had been raised. His English immigrant parents barely survive, take in boarders to make ends meet. His Aunt Kate (portrayed by a comically eccentric Adrianne Wilkinson) introduces him to the New York City theater world, spending the little money she has to go to see Broadway shows. From this introduction to Broadway, Moss develops a hunger to write stories for the stage.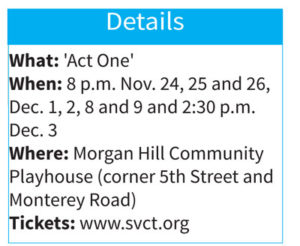 The young man struggles at the writing craft until he is introduced to the successful, neurotic, germophobic George S, Kaufman (a superb Rob Christopher of Gilroy, who also plays Moss's angry frustrated father). The unlikely team bond and through Kaufman's mentorship, Hart grows into the successful playwright he has long dreamed to become. "Act One" has three Moss Harts. We see him as a child, then as a growing adult (a fine Zack Goller), and an older man performed by a believable Peter Mandel recollecting his ups and downs by narrating to the audience the different levels of the story.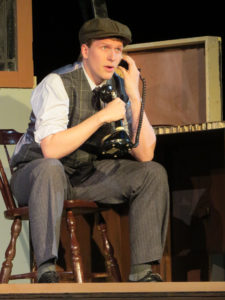 The plot goes in many directions and will keep the audience's attention with a cast that is strong and credible in their performances. Director Buddy Butler has a talented group to work with to develop a gripping transition from book to stage. And SVCT's team of set designers just about reproduced the New York City of the 1930s with a revolving two-story set that continually moves from tenement to luxury apartments to offices and keeps the story moving from scene to scene without a break. It's impressive to see this set based on the original Broadway production's concepts by "Beowulf Boritt. SVCT's set designer, Javier Garcia, deserves a set designer's award for all community theatre productions everywhere.
Michelle Griffin's exceptional costumes as usual blend with the times and places. Lighting and sound are exceptionally done and pianist Mark Gaetano, famous locally for tinkling the ivories at Morgan Hill's 88 Keys Café, adds just the right amount of tune to each scene.
For a special holiday theater memory, treat yourself and your friends and family to a SVCT performance of "Act One" and be inspired by the life of playwright Moss Hart.
Camille Bounds is the theater columnist for the Morgan Hill Life and Gilroy LIfe newspapers. She has performed on Broadway and traveled around the world. She can be reached at: bounds17@gmail,com
Latest posts by Camille Bounds (see all)