Published in the May 9 – 22, 2018 issue of Morgan Hill Life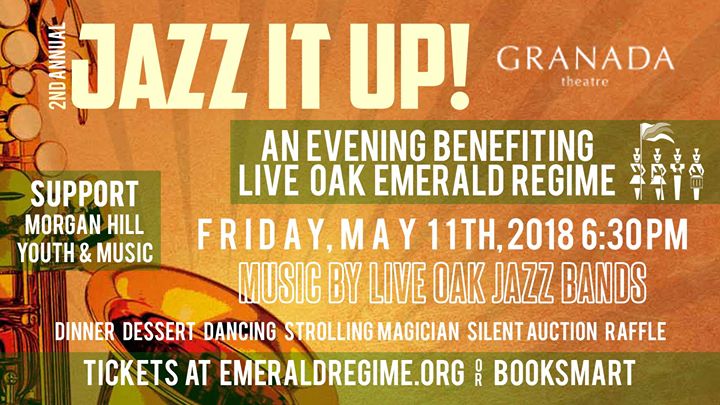 When I suggested to Kathy Munk that her daughter Elizabeth, a junior at Live Oak High School and saxophonist in the Jazz 1 Band, write something about the upcoming jazz show at The Granada Theater, she didn't hesitate to send this to me:
"Basie. Sinatra. Ellington. Though some of the traditions are almost a century old, the vibrant language of jazz is continued in the lives of Live Oak music students.
"For the students in the program, making music is not just a class to them. The band room is consistently occupied at lunch, whether it be to practice with friends or listen. Music plays a huge part in the students' lives through multiple programs at the school, like marching band, winter guard, and winter percussion. One key program of the Live Oak Music Department is the jazz program. There are two jazz bands that both focus on learning the style of jazz, listening to historical legends and playing with their peers. Jazz II is novice-intermediate band and Jazz I is an audition only band that is taught during the school day. Both bands participate in music festivals across the Bay Area. At each festival, bands are judged on a rating system, superior being the highest. So far, Jazz I has been awarded numerous unanimous superior ratings and have been selected to perform as showcase performers at several festivals."
"Jason Locsin, music director and Live Oak alum, said the music programs develop essential life skills in the areas of teamwork, leadership and an appreciation of music.
"'The Jazz It Up Event gives the community a unique opportunity to see the jazz students perform in the vintage ambiance of the Granada,'" Locsin said.
"His leadership has been integral to the success of the jazz education program at Live Oak High School."
This performance will be held at the Granada Theater May 11. A night of dining, raffles, dancing, silent auctions, and live jazz music, this will certainly be an event you do not want to miss. Tickets are available at www.emeraldregime.org.
Satori Cellars will open to all moms on Mother's Day with a free music concert provided by The Cook'NFenny Combo 1:30 to 4:30 p.m.
Got a music tip? Send it to harmonicaman1@yahoo.com.
Mark Fenichel is the Advertising/Marketing Director for Morgan Hill Life with more than 40 years of marketing experience. If you're interested in learning more about building your business brand, contact Mark at (408) 410-4782 or email him at sales@MorganHillLife.com.
Latest posts by Mark Fenichel (see all)