Residents will decide on hotel tax and cannabis measure in November
Published in the August 15 – 28, 2018 issue of Morgan Hill Life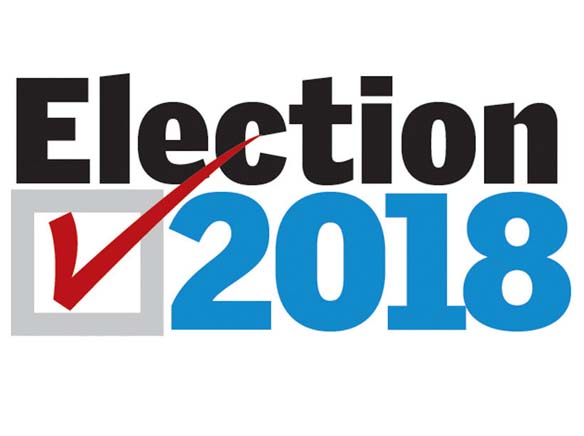 Morgan Hill voters will face many important choices in leadership and three local issues in the Nov. 6 election.
The run for the city mayor seat is shaping up to be a three-man race. Councilmember Rich Constantine is running against former councilmember Greg Sellers, and Kirk Bertolet, who ran two years ago.
Mayor Steve Tate announced earlier this year that he will not seek re-election. He was first elected mayor in 2006 and re-elected five times after having previously served eight years as an elected member of the city council.
Due to a lawsuit filed last year, for the first time in the city's history council seats will be elected by districts instead of by at-large elections. Constantine represents District B, so his running for mayor leaves his council seat vacant.
Constantine, a 54-year-old San Jose firefighter, was elected in 2014 and is completing his first term. He said he wants to maintain the positive direction Morgan Hill is going. Constantine said that after serving two terms on the City Council he's proud to run for mayor with a focus on quality of life issues that include responsible growth, public safety, addressing the needs of the city's youth, tackling transportation challenges and improving access to high speed Internet service.
"I am working to build a better future for my daughter, Emma, and all the kids of our community," he said. "I want them to have opportunities to go to great schools, to have fun and interesting things to do, and ultimately to be able to one day raise their families here. That means having activities, parks and playgrounds where young people can be engaged in positive activities and ensuring we have affordable housing so our kids can stay right here and grow the city with us, and contribute to a dynamic, fun city where families thrive."
Sellers, 56, served on the council from 1998 to 2010. Running was not even on his radar three months ago, he said, but several key leaders helped convince him to get back on the dais. He is endorsed by Tate, Councilmember Caitlin Jachimowicz, and others.
Sellers decided to get back into local politics and run for mayor because he said he's uniquely qualified to help the city get through the challenges ahead.
"As councilmember I led efforts to build our recreation, aquatics and community centers, rebuild downtown, preserve open space and expand our police force," he said. "I will use my extensive leadership experience to make Morgan Hill even better moving forward."
His priorities are increased public safety in schools, permanently preserving open space, improving Caltrain, alleviating traffic and making sure future growth is sensible and well planned.
"I'm proud to be supported by many of our community's most respected leaders," he said. "They know I will be a strong advocate for Morgan Hill when dealing with the regional, state and federal agencies that significantly impact our city's future."
Bertolet, an electrician, pulled papers to run for mayor, but has yet to file.
Current Councilmember Larry Carr, who was first elected in 2010 and represents District A in Morgan Hill, has two years remaining on his seat.
Ken Murray, a current Morgan Hill Chamber of Commerce board member, has pulled papers with the Santa Clara County Registrar of Voter and intends to run for the District B seat, he said.
Councilmember Rene Spring, who lives in District C, has two more years on his term.
District D Councilmember Caitlin Jachimowicz will not seek the full term she was appointed to when Gordon Siebert moved out of state with a year left on his term. Marilyn Librers, who served on the Parks and Recreation Commission from 2002 to 2008 and on the council from 2008 to 2016, said she is running in District D but as of Aug. 9 had not filed papers.
Also in District D Julie Hutchinson, director of external affairs and advocacy for the Committee for Green Foothills filed papers Aug. 8, and Morgan Hill Downtown Association President John McKay said he intended to file papers.
Morgan Hill Unified School District has openings in four seats this year. Former School Board Trustee Peter Mandel has pulled papers for the seat in Area 1; John Horner, president and CEO of the Morgan Hill Chamber of Commerce has filed papers in Area 2; incumbent Gino Borgioli has pulled papers and teacher Heather Orosco has filed papers in Area 3; instructor Robert Gyunn and marketing strategist Jill Provencal have filed papers in Area 4; and Vanessa Sutter has pulled papers in Area 5.
John Varela, Santa Clara Valley Water District board member representing South Valley, is running unopposed.
In the race for Trustee Area 3 for the Gavilan Community College board, Laura Perry, incumbent, and Enrique Navarro-Donnellan, a research assistant, have both filed papers. Incumbent Walt Glines has pulled papers and Edwin Diaz, a retired educator, has filed papers for the seat in Trustee Area 3.
Incumbent Santa Clara County Sheriff Laurie Smith and retired county undersheriff John Hirokawa have filed papers.
City Measures
Voters will decide on three local measures in November. The city hired a research group to survey local voters on increasing the city's Transient Occupancy Tax as well as a tax on the sales of recreational marijuana. The transient occupancy tax is levied upon anyone staying in a Morgan Hill hotel or motel. Morgan Hill's current TOT is 10 percent and the measure, if approved, would increase it to 11 percent. The survey found support for the tax was between 63 and 67 percent. The decision to put the tax on the ballot was paired with another that would begin steps toward forming a Tourism Business Inclusion District that would fund a visitor type organization that would market and promote the city. That tax of 1.5 percent would increase the total TOT to 12.5 percent.
The survey also found about 64 percent favored taxing marijuana when or if the city approves marijuana businesses in the city. The council also approved a 30-percent tax on medical and recreational businesses should either be allowed to open. The city's strategy is to get approval for a tax before debating what sort and where such businesses might be allowed.
The third measure, if approved by voters, would change the city clerk and city treasurer posts to appointed positions. According to City Attorney Donald Larkin, most cities in the state appoint citizens to the two positions. The move would save the city about $40,000 annually.
Gavilan College bond
The Gavilan Community College District Board recently approved a bond measure asking for $248 million to upgrade the main Gilroy campus, as well as its Coyote Valley and San Benito County satellite sites. The debt would be paid back over the next 28 years through property taxes on the assessed value of homes in San Benito and southern Santa Clara counties. The average homeowner would see their taxes rise less than $100 per year.
Robert Airoldi is the editor of Morgan Hill Life newspaper. If you have a story idea or an Around Town column item you want to tell him about, you can reach him at (408) 427-5865 or at editor@morganhilllife.com.
Latest posts by Robert Airoldi (see all)