---
Why are you running for Santa Clara County Supervisor and what makes you qualified to represent District 1? 
I'm running for Santa Clara County Supervisor because I care about helping our community.  As a nurse, education advocate and longtime South County resident, I will advocate for good jobs, quality healthcare and county services on the Board of Supervisors.
I have hands-on experience caring for our community as a registered nurse.  Over the last year I've worked tirelessly to open vaccination sites throughout South County. I've dedicated my time as President of the County Board of Education working to ensure our students have the resources they need.  As a mom who raised my two children here in South County, I have deep roots in our community.  I will be a strong advocate for our health and safety on the Board of Supervisors.
What in your opinion is the single most important challenge specific to South Valley residents and how do you intend to address it?
Our greatest challenge is ensuring that the voices of our South County residents and the issues that are important to us are recognized at the County level.  As the last agricultural corridor of our county, South Valley families are keeping our precious lands and spaces protected. It is vital that we address the needs of these families who have been struggling.
As a registered nurse, I have been working with community partners to bring vaccines to our laborers, vulnerable farm workers and working families. As your Supervisor, I will bring our South County issues to the table and to the forefront of the conversation so that we can create solutions that work for us.
How do you intend to protect and enhance the unique quality of life for the people of the South Valley?
I will lead and take action every day on behalf of South County families, and I will build a coalition of partners to work together to achieve all the great things our community deserves.
The Board of Supervisors has an incredible amount of power to improve our quality of life.  We need a strong leader to fight to ensure Santa Clara County meets the needs of the South Valley.
My experiences as a nurse and education advocate will bring necessary insights to improve the health and well being of our South County residents. As a nurse, I am always ready for an emergency and always prepared.  I will take that same approach for our community.
---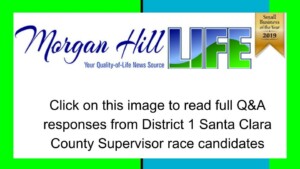 Latest posts by Guest Column
(see all)