Christopher High School junior directs "jukebox" musical featuring songs from '50s and '60s
---
By Marty Cheek
Join South Valley teens on a time travel trip going back six decades. Four young people from Gilroy and Morgan Hill are involved in producing "The Marvelous Wonderettes," a live stage show featuring hit pop songs from a more innocent era.
The jukebox musical comedy is directed by Christopher High School junior PJ Crocker and is scheduled for four shows June 19 and 20 at the Second Stage theater at the Mountain View Center for the Performing Arts. Written by Roger Bean, the show first hit off-Broadway 20 years ago and entertains with many of the classic '50s doo-wop songs including "Mr. Sandman" and "Stupid Cupid" and '60s Motown hits including "Son of a Preacher Man" and "RESPECT."
The show stars 2020 Live Oak High School graduate Jenna Hernandez (playing "Betty Jean"), Grace Ramos (playing "Suzy"), Morgan Hill resident and 2020 Valley Christian School graduate Lucy Kaelin (playing "Cindy Lou"), and Olivia Colace (playing "Missy"). The performers play friends who love to sing with each other as the girl group "The Marvelous Wonderettes."
2018 Live Oak High School graduate Brianna Pember serves as the vocal director of the show. She boasted that audiences will be enthralled by the exuberance of the four young performers belting out their ballads.
"I've been very lucky because the cast are all very talented and they're easy to work with and they sound beautiful," she said. "I've also been very fortunate because Lucy and Olivia are very familiar with the music from the '50s and '60s. It's been easy and fun working on this show's music."
Jukebox musicals have grown popular over the years because they showcase well-loved songs in a story that entertains audiences with comedy and a bit of drama. Among the best known of this type of musical is "Mama Mia" featuring songs from Swedish pop band ABBA.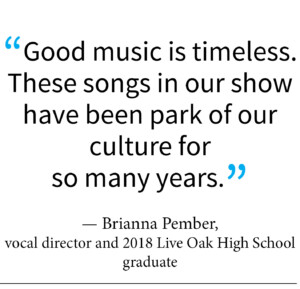 Even though the songs in "The Marvelous Wonderettes" were originally performed decades before today's teens were born, they still carry a light-spirited quality that makes them a pleasure for a 21st century generation, Pember said.
"Good music is timeless. These songs in our show have been part of our culture for so many years," she said. "I think that's something that's so cool about this show.."
In the first act of "The Marvelous Wonderettes," four friends — Betty Jean, Cindy Lou, Missy and Suzy — are song leaders at their Springfield High School senior prom in 1958 and called upon by the principal to perform as a last minute replacement. The girls rally together to entertain their classmates in four-part harmony. The second act finds the four friends meeting again 10 years later at their high school reunion. The fun starts as they find out that life has thrown some challenges at them and old rivalries rise.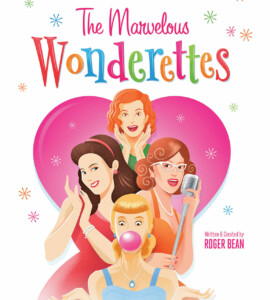 Hernandez's "Betty Jean" is having boyfriend problems. Her character fights throughout the show with Kaelin's Cindy Lou character who is stealing her boyfriend.
"That's where I sing my song 'That's When the Tears Start' because Johnny is cheating on me," Hernandez said. "I also sing 'It's my party and I'll cry if I want to' . . . Sometimes Lucy and I will be elbowing each other in the middle of a song or I'll place a paper moon prop in the middle of her face to hide it. One of the fun parts about fighting while singing is that there's no fistfights, it's fighting for the attention and spotlight and using the bubbles and props to steal that away from solos and vocal parts."
Kaelin describes Cindy Lou as "your classic mean girl," explaining, "She gets what she wants. She'll do anything to get what she wants. She's a very new character for me to play because she's kind of out there. Usually I play the more reserved ones."
"The Marvelous Wonderettes" is a production of Upstage Theater, a Bay Area nonprofit organization founded six years ago as a completely teen run theater company. Its mission encourages youths to be leaders in acting and production in creating entertainment for the black box theater stage at the Mountain View Center for Performing Arts, Crocker said. This enables them to explore the artistic aspects of themselves that they might not be able to explore in high school theater or community theater, he said.
Even though months of vaccinations have helped the COVID-19 pandemic start to dial down its impact on society, putting together the show was still a challenge to the cast and crew, Crocker said. Zoom rehearsals did not work well for this kind of show where there is a lot of interaction. Finding places to safely rehearse required them to get creative, using cast members' homes and a Willow Glen dance studio to work out their choreography and song routines.
"It's really thrown us for a loop to try to produce a musical this early on in the reopening phases," Crocker said. "We still are kind of jumping around from place to place for rehearsals. We had to figure it out — and we did. We found something that works by chugging along."
Being involved in an Upstage Theater company musical that is entirely produced by teens and young people has been a positive experience for Hernandez.
"We are throwing together a show and we all really respect each other and respect each other's positions (in the cast and crew)," she said. "Teens putting on a professional production is so strange — but I love it."
Latest posts by Marty Cheek
(see all)